Bootcamp Diary: Week 14 - The End!
Posted 21. November 2020.
7 min read.
OMG it's the final week of bootcamp!!! Where has the time gone?!
Monday
So we've still got quite a bit to do on our app and we're already half way through our development time! I'm feeling a little nervous about finishing, but overall I am remaining positive!
There are still a lot of things to figure out with the game logic, so we're continuing to mob together for that. I'm actually really enjoying mobbing this project as it's been a really productive experience so far. There have been a few frustrations that we've come across today that we need to figure out, like things not loading when they should, or vice versa.
Tuesday
Powering through again today! Today was really more of the same as yesterday; mobbing together again to figure out the tricky game logic of our quiz. So we still start each day with a stand up, to give us all an idea of where we are and what possible issues we're facing. Today seemed to just fly by because we're so busy! I'm really trying to remember to take breaks though; but someone from the cohort usually organises a Zoom coffee break which helps me to step away from work for a few minutes! I don't really tend to look at the code after 5pm either (as I'd rather look at it with my teammates) so that gives me a bit of a break in the evenings.
Wednesday
Half way through the final week! I think we're all a little nervous about getting things finished, but at this point we have basically completed our MVP (minimum viable product), so that's a relief! The quiz game works, but we are now just ironing out a few things that are still a little buggy. I can't believe that I was struggling so much with React just a few weeks ago, but now I'm really enjoying the process of building an app with it! Yes, it's a little stressful right now, but still enjoyable.
Thursday
Finally the time has come to add some STYLE! I spent a bit of time doing some basic CSS for our app last night and I also designed the "Quizhub" logo. We're gonna do any other bits of styling as we go along now. Luckily, we've reached a point now where we don't need to mob everything as the tricky logic parts have all been done. So we had a stand-up where we looked at the Trello board and split the remaining smaller tasks up between us, so we could get to work on them separately for the afternoon. Most of these tasks were tidying things up, or just making some small additions.
Friday - Graduation!
It's Fridayyyyy! We have until 4pm to finish any last bits of coding, then we're all getting together for a show and tell at 4pm. Luckily we didn't have too much to finish, but we still ended up working on it right up until 4pm! Within this time, we also got our project hosted on Firebase so that we could have other people playing on it during the show and tell.
If you'd like to see our app, Quizhub, here is my copy of the Github repo with a live version of the game that you can play too!
Overall, the show and tell was super interesting and it was really cool to see everyone else's apps they'd made. This is officially the last day of bootcamp which is kind of bittersweet because I'm going to miss everyone, but I'm also really relieved that I've completed it! There is still one last task to complete though, which is to film the presentation video for our app. This is going to be a bit challenging since we're remote, but we're going to get back in touch each other on Monday and plan it out together.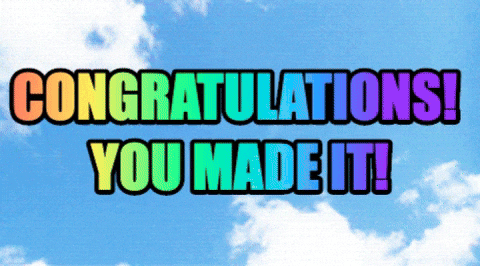 ---
BONUS: The Week After Bootcamp...
Monday
After having a chat together on Slack to plan out our video, I spent the rest of the day writing my script. I was going to film in the afternoon but then decided it was too dark, so I resolved to do it in the morning instead. I did do the screen recording of the app in action today though, showing a multiplayer game between 3 users.
Tuesday
Today I got up at the same time as my boyfriend (6am) so I could get ready and get this filming done early. The deadline for the videos is 12pm today. However, we do have another day to re-record things if needs be.
I got myself set up in the kitchen because the light was good in there and I could set up a nice backdrop with some flowers. I could have borrowed my boyfriend's video camera but I didn't really know how to use it, so rather than waste time, I just filmed using my laptop camera. I must have done about 50 takes saying the same thing over and over and I absolutely hated the sound of my own voice by the end of it. However, I finally settled on the recordings to use and got them uploaded. Now we just wait for the videographer to work his magic!
Wednesday
It's a bit weird having free time now that I don't have bootcamp any more! I feel a bit guilty if I'm not doing anything productive, but I also want to give myself a bit of a break after 14 weeks of really intense learning! This afternoon though I researched some job-related things and did some networking...
Thursday
Honestly, I didn't do that much today! I actually let myself have a bit of a rest and play video games. It was much needed.
Friday
Something exciting happened today! I was a guest speaker on a webinar about impostor syndrome, as part of Sheffield Digital Festival! Taking part in this was a great experience and I loved hearing everyone else's stories and advice. I talked a bit about times when I've previously experienced impostor syndrome, particularly during bootcamp. Here is a link to the recording!
---
..and lastly!
Here is our final project presentation video!
Watching myself back is super cringey for me, but I'm really proud of my team. Alex and Naomi have done an excellent job recording their video parts and overall they were great teammates to work with. We had jokingly called our team "Project Zeus" (a Peep Show reference) but thankfully this time Project Zeus came together in the end after all :)
---
...So ends my bootcamp diary blog series! I hope that there may have been something here that helped someone...perhaps you're thinking about learning to code or deciding if a bootcamp is right for you? Feel free to contact me on any of my social links if there is anything I can help with. I do intend to write more blog posts in the future though, so watch this space!
Peace out
Tia